Resurfacing or replacing your asphalt driveway will make it look like new
Hand laid asphalt driveway replacement
Resurfacing or replacing your asphalt driveway in Auckland is easy with Asphalt Improvements
Asphalt Improvements is the asphalting team to call for repairs, resurfacing and full driveway replacement services. We provide a transparent service, including honest advice on the costs and implications of asphalt driveway replacement versus resurfacing.
We know that every customer and every job is different, so we offer a full no-obligation asphalt assessment with specialist advice on your re-asphalting needs.
Contact Asphalt Improvements today to schedule your free in-person quote.
Auckland's premier asphalt paving specialists
Asphalt Improvements welcomes enquires from residential and commercial customers. Our quality asphalting services include:
Kerbing
Site works
Cobbles
Chip seal
Hotmix
Natural paving
Gobi blocks
Wheel stops
Speed humps
Asphalt repairs North Shore and Auckland wide
Get a FREE Quote
Please fill out this form and we will contact you within 48 hours (Monday to Friday) to discuss your needs and provide a quote.
Asphalt or chip seal: What's the difference?
Asphalt resurfacing is regarded as a structural repair that extends the life of the asphalt surface. This involves patching and resurfacing all of the surface with a new overlay of hotmix asphalt. Chip seal, on the other hand, doesn't correct structural damage.
However it does offer protection and help to prolong the asphalt surface. As expected, chip seal is less expensive than asphalt resurfacing.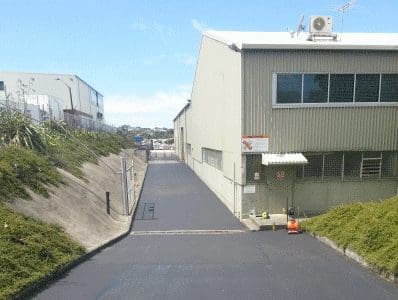 Factors that influence asphalt longevity
When it comes to asphalt resurfacing, there are a number of factors that influence longevity. Soil makeup, weather patterns, the number of heavy vehicles using the asphalt, and the condition prior to resurfacing all play a part.
Careful installation is important, and Asphalt Improvements take pride in our workmanship. Typically when resurfacing asphalt, an extra 8-15 years can be expected from the resurfaced area. However proper care and maintenance can significantly prolong the lifespan to 20-30 years.
Asphalt Improvements covers Auckland, North Shore and West Auckland
Our asphalt contractors cover the North Shore, Devonport, Takapuna, Northcote, Glenfield, Albany, Rodney, Auckland City, West Auckland, New Lynn, Henderson and Waitakere.
Contact Asphalt Improvements today, to schedule your free in-person quote.